Latest News
Why effective digital property marketing matters
Date Posted: 12 November 2020
In these uncertain times, we are making sure to do everything we can to reassure our sellers and potential buyers that the property market is up and running. Here at HRT, we have embraced the digital world and taken on digital property marketing across social media, YouTube and our website.
We have gathered together a list of our biggest digital improvements to ensure no property is left unseen. From video viewings to new social channels, we have a whole host of new ways to market and sell our properties. Here's why they all matter.
YouTube property video tours
We have recently taken to YouTube to share video tours of our properties to give our buyers multiple options to view their potential new home. We are adapting to all kinds of changes, from self-isolating clients and lockdowns to socially distanced viewings and household mixing limits. This means video viewings are often easier and safer for many of our clients and customers.
We continue to update our policy on physical viewings in line with any restrictions. Because of constantly changing guidelines, we maintain transparency with all of our clients as well as clear communication to make sure our clients have the best viewing experience possible.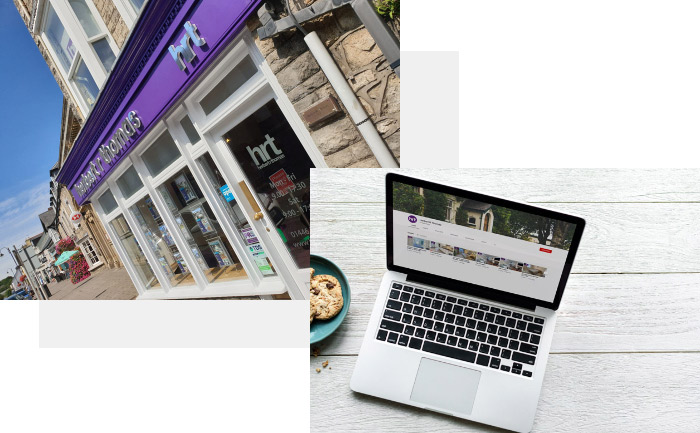 Video valuations


After taking our viewings online, it only seemed right to do the same with our valuations. Our experienced team are as well equipped to valuate properties digitally as they are physically. Video valuations may not always be necessary and physical inspections are permitted as of Monday the 9th of November where social distancing guidelines can be followed.
For a valuation of your property or any questions, contact us today and we will be in touch to discuss the details.
Multiple social media marketing channels


We are no strangers to social media at HRT, and regularly post our latest properties to all of our social channels, including Instagram, Facebook, Twitter, Google and LinkedIn. With so much emphasis on imagery across many of these platforms, we make sure multiple photos are added to each post for maximum engagement. Hashtags also play a crucial role in the discovery and interaction of posts. We carefully choose our related hashtags to give our properties the best chance in the social media algorithms.
For all HRT related updates, make sure to follow our social channels for all the latest updates and properties in the run up to Christmas.
Instagram Facebook Twitter LinkedIn
Google business listings


All of our individual branches have their own Google business listing that undergo regular updates to ensure our clients know where and how to find us. Throughout the coronavirus pandemic uncertainty, we have made sure our opening hours and services are accurate and clear to each branch.
We are always thankful for Google reviews posted by our clients. If you recently worked with any of our HRT branches, feel free to drop us a Google review.
Rightmove property listings


For us, a property can never have too much attention. We use Rightmove for all of our properties to ensure maximum exposure and interaction on external websites. As more and more people turn to sites such as OnTheMarket, Rightmove and Zoopla, it's important we embrace these platforms.
Like our Google business listing, we also make sure out Rightmove agency page is up to date and full of the right information, ensuring potential buyers can always contact us with ease.
Featured properties on website homepage


We also feature properties on our website homepage to further increase exposure to our organic audience. Our featured properties are always posted to our social channels, ensuring each property is seen and remembered.
Alongside the key improvements we are making to our digital business services, we are also making sure our in-person viewings and appointments are safe and flexible for all our clients.
If you're looking to sell your property or you're in the market to buy, contact us today to start your move.
Want a free market appraisal? Look no further than HRT.