A guide to buying your new home...
HRT understands that buying a new home (especially for the first time) can be scary. There a lots of decisions to make throughout the process and these can be the difference between spending thousands or saving thousands. That's why we have put together this buying guide to help you each step of the way.
Decide if you should sell before you buy (for exisiting homeowners).
If you already own property, you make make the decision to sell your home prior to buying a new one. This can be risky, but with the funds ready it would make it easier for you to tie down your dream home.
Choose your budget
Make sure you have a large enough deposit together for the cost of the property you want. Also be aware of the extra costs included in buying a new home (such as stamp duty); these can add 15% to the cost of your new home.
Organise your finances
Work out how much deposit you can get together and how much you could get if you sold your current home and paid off your deposit. Then decide the type of mortgage you want, and try to arrange for a mortgage in principle (as you cannot get a mortgage before you buy).
Decide What Area You Want to Live in
Choosing where you want to live is an important decision. If you are choosing to move to a different area, it is important you do research on the local amenities, schools and crime rates. These are all important factors to consider when moving to a new area. Make sure you plan for the future as buying a home is for long term. Also remember the costs of moving further away. If you want to live in the same area, this decision will be a lot easier due to familiarity.
Decide What Kind of Property You Want to Buy
Once you have decided what area to live in, you should do research about the type of property you would like to buy and search online to see what is available in that area. Make sure you are aware whether the property you are looking at is freehold or leasehold. HRT can help you with this, by taking into consideration your budget and requirements we can help you find properties that suit your needs and arranging viewings.
Make an Offer on a Home
Decide on the price you would be willing to pay, and speak to us about the offer you would like to make to seal the deal. You might be asked to make a small deposit to show you are serious. This will be repaid if the sale falls through. Hopefully your offer will be accepted. You should also consider whether to get Home Buyer's Protection Insurance (details of this can be found here).
Arrange a Mortgage
Ideally your finances should be in place before you make an offer. You will need to go back to your mortgage provider with the offer and complete the process of arranging that mortgage. However, if you have not got your finances in place, you will need to get them together very quickly to ensure you do not lose the offer on the property you have found. Don't forget you will need to have sufficient funds to pay for stamp duty on the home, which can amount to 7% of the property. Your agreed lender will then give you a formal mortgage offer prior to exchanging contracts.
Hire a Solicitor/ Conveyancer
Following this offer, you will need to hire a solicitor / conveyancer to handle all of the legal work involved in transferring the property ownership to you. Your mortgage provider may require you use one in their panel, which may make that decision for you. They will then do the necessary searches to ensure there are no major issues with the property you are buying.
Do You Want a Full Survey?
Your mortgage provider will ask for a valuation by a surveyor to ensure the property is in good enough condition to lend against. This survey is only superficial. You can then choose to upgrade to a full survey or you can commission a new survey; this will tell you all you need to know about the property you are buying and will alert you of potential problems. If you are not experienced in this area, we would recommend you get a full survey done.
Arrange your Deposit
Before you exchange contracts, you must arrange a deposit of at least 10% of the property sale price and give this to your solicitor / conveyancer. You will either have this 10% from the deposit you arranged for the property or you will raise the funds from the sale of an existing / previous home.
Exchange Contracts
Once you and the seller have exchanged contracts you are both legally committed to the sale. If you withdraw following this, you will forfeit your 10% deposit. This exchange should only be done following the surveyors report and any action that needed to be taken. Agree a completion date approximately 4 weeks from exchange of contracts beforehand. To complete the exchange of contracts you must have first ensured the solicitor / conveyancer is satisfied with their searches, received a formal mortgage offer and made your arrangements to pay the 10% deposit. You will want building insurance on the property from then on as it will become your responsibility.
Final Arrangements / Negotiations
Make sure you negotiate any final things not yet agreed. You will also need to arrange the supply of electricity, gas, water, telephone and internet if needed. You can either change from the existing supplier or change the name and details on the existing account for the property. Your solicitor / conveyancer will be informing land registry of the transfer of ownership and will also be liaising with the mortgage lender to ensure the funds are ready for completion. You will also need to make sure your deposit money is ready.
Completion of Sale
When you have paid for the property and taken ownership of the property, this is known as completion. On that day, the money will be transferred along with the deeds between each side's conveyancer.
Time to Move In
You should now be able to move in, as the seller must have left the property by completion. This is when you can collect the keys from HRT and can either move in or do any building work beforehand.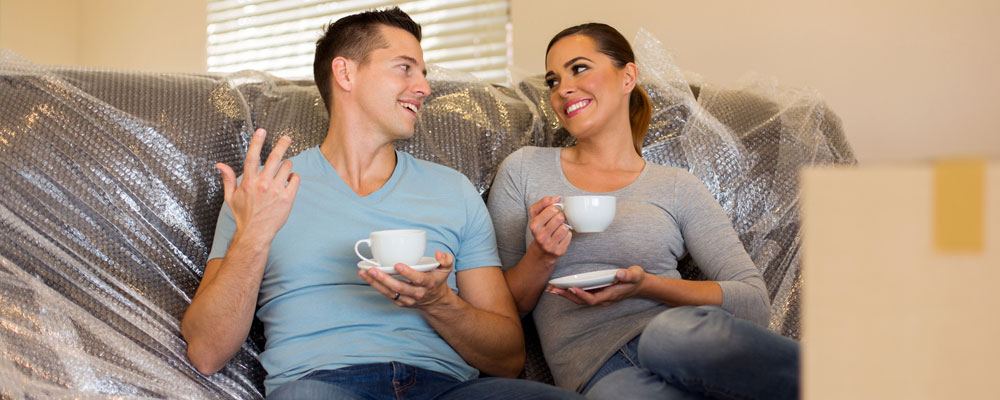 Pay Stamp Duty and Settle up with the Solicitor and Conveyancer
Once completion has happened, your solicitor / conveyancer will send you an account with all of their costs, disbursements, the purchase price of the house and the stamp duty. They will usually pay the stamp duty for you and ensure that the transferring of ownership is registered with the land registry.
Find out more about buying a home at www.hoa.org.uk/